Cultural colonialism as a result of commercial activities: the linguistic perspective
Keywords:
cultural colonialism, inter-Scandinavian communication, language contacts, loanwords, Reformation, semi-communication, strategies of communication
Abstract
The Hanse played not only a prominent economical role in the North Atlantic but the Germans also consistently influenced the culture of the people with whom they interacted and traded. Their presence led to a sort of cultural colonialism in Northern Europe, which, among others things, substantially shaped the Scandinavian languages. For several reasons, the Icelandic language was not influenced in the same way as the other Scandinavian languages; yet, one can find some traces of German in administrative language dating back to the Middle Ages. Furthermore, 'cultural colonization' by the Germans also certainly took place through the Reformation in Iceland. It was the German merchants who took the first seeds of the new faith with them to Iceland and marked their 'conquest' by building a Lutheran church. In this way, the merchants – like colonialists – claimed a space on foreign ground for themselves, where language played a very central role. 
References
Crymogæa sive Rerum Islandicarum Libri III, by Arngrímur Jónsson. Hamburg, 1609.

Amsler, S. 2016. Cultural colonialism, in The Blackwell Encyclopedia of Sociology. https://doi.org/10.1002/9781405165518.wbeosc202.pub2

Bauer, A. 2015. Laienastrologie im nachreformatorischen Island: Studien zu Gelehrsamkeit und Aberglauben. Münchner Nordistische Studien 21. München: Herbert Utz Verlag.

Benediktsson, J. 1964. Þættir um sögu íslenzks orðaforða, in H. Halldórsson (ed.), Þættir um íslenzkt mál, 88–109. Reykjavík: Almenna bókafélagið.

Bloomfield, L. 1996. Language. Dehli: Allen & Unwin.

Braunmüller, K. 1993. Übernahme von Sprachstrukturen, in K. Braunmüller and W. Diercks (eds), Niederdeutsch und die skandinavischen Sprachen 1, 137–160. Heidelberg: Winter Verlag.

Braunmüller, K. 1995. Formen des Sprachkontakts und der Mehrsprachigkeit zur Hansezeit, in K. Braunmüller (ed.), Niederdeutsch und die skandinavischen Sprachen 2, 9–33. Heidelberg: Winter Verlag.

Braunmüller, K. and House, J. 2009. Introduction, in K. Braunmüller and J. House (eds), Convergence and Divergence in Language Contact Situations, 1–9. Hamburg Studies on Multilingualism 8. Amsterdam and Philadelphia: Benjamins.

Braunmüller, K. and Kühl, K. 2014. Linguistic stability and divergence: An extended perspective on language contact, in K. Braunmüller, S. Höder and K. H. Kühl (eds), Stability and Divergence in Language Contact. Factors and Mechanisms, 13–38. Studies in Language Variation 16. Amsterdam and Philadelphia: Benjamins.

Childs, P. and Williams, P. 1997. An Introduction to Post-Colonial Theory. London: Prentice Hall.

Dalby, A. 2004. Dictionary of languages: the definitive reference to more than 400 languages. New York: Columbia University Press.

Diercks, W. and Braunmüller, K. 1993. Entwicklung des niederdeutsch-skandinavischen Sprachkontakts, in K. Braunmüller and W. Diercks (eds), Niederdeutsch und die skandinavischen Sprachen 1, 9–40. Heidelberg: Winter Verlag.

Eggertsdóttir, M. 2014. Icelandic Baroque. Poetic Art and Erudition in the Work of Hallgrímur Pétursson. Ithaca and New York: Cornell University Library.

Eglinger, H. and Heitmann, A. 2010. Landnahme: Anfangserzählungen in der skandinavischen Literatur um 1900. Paderborn and Munich: Fink.

Engelsing, R. 1973. Analphabetentum und Lektüre. Zur Sozialgeschichte des Lesens in Deutschland zwischen feudaler und industrieller Gesellschaft. Stuttgart: Mezler.

Falk, H. S. and Torp, A. 1910. Norwegisch-dänisches etymologisches Wörterbuch auf Grund der Übersetzung von Dr. H. Davidsen neu bearbeitete deutsche Ausgabe mit Literaturnachweisen strittiger Etymologien sowie deutschem und altnordischem Wörterverzeichnis. Heidelberg: Winter Verlag.

Groenke, U. 1998. Die Sprachenlandschaft Skandinaviens. Berlin: Weidler.

Hauksdóttir, A. 2011. Danske minder i Island. Om mødet mellom dansk og islansk kultur. Danske Studier 106 (NF 10), 5–49.

Hinderling, R. 1981. Die deutsch-estnischen Lehnwortbeziehungen im Rahmen der europäischen Lehnwortgeographie. Wiesbaden: Otto Harrassowitz.

Hyldgaard-Jensen, K. 1983. Mittelniederdeutsch und die skandinavischen Sprachen, in G. Cordes and D. Möhn (eds), Handbuch zur niederdeutschen Sprach- und Literaturwissenschaft, 666–76. Berlin: Erich Schmidt Verlag.

Jahr, E. H. 1995. Niederdeutsch, Norwegisch und Nordisch, in K. Braunmüller (ed.), Niederdeutsch und die skandinavischen Sprachen 2, 125–44. Heidelberg: Winter Verlag.

Johnannisson, T. 1968. Deutsch-nordischer Lehnwortaustausch, in W. Mitzka (ed.), Wortgeographie und Gesellschaft, Festgabe für Ludwig Erich Schmitt zum 60. Geburtstag am 10. Febr. 1968, 607–23. Berlin: Walter de Gruyter.

Karlsson, G. 2000. Iceland's 1100 Years. The History of a Marginal Society. London: Hurst & Co.

Koch, F. C. 1995. Untersuchungen über den Aufenthalt von Isländern in Hamburg für den Zeitraum 1520–1662. Hamburg: Verein für Hamburgische Geschichte.

Kress, B. 1966. Anglo-Amerikanisch und Isländisch. Nordeuropa. Jahrbuch für Nordische Studien 1, 9–22.

Kreutzer, H. J. 1977. Der Mythos vom Volksbuch: Studien zur Wirkungsgeschichte des führen deutschen Romans seit der Romantik. Stuttgart: Metzler.

Marold, E. 1980. Mischsprache oder Kontinuum. Die skandinavisch-deutschen Sprachbeziehungen im Mittelalter im Licht der neueren Forschungen zum Sprachkontakt, in H. Rupp and H.-G. Roloff (eds), Akten des VI. Internationalen Germanisten-Kongresses in Basel 1980, 142–148. Frankfurt: Peter Lang.

Marold, E. 1996. Der Hansekaufmann als sprachlicher Grenzgänger, in H. Detering (ed.), Grenzgänge. Skandinavisch-deutsche Nachbarschaften, 28–45. Göttingen: Wallstein-Verlag.

Migge, B. and Léglise, I. 2007. Language and colonialism. Applied linguistics in the context of creole communities, in M. Hellinger and A. Pauwels (eds), Language and Communication: Diversity and Change. Handbook of Applied Linguistics, 297–338. Berlin: Mouton de Gruyter.

Mitterauer, M. 2005. Kaufleute an der Macht. Voraussetzungen des Protokolonialismus in den italienischen Seerepubliken am Beispiel Pisa, in P. Feldbauer, G. Liedl and J. Morrissey (eds), Mediterraner Kolonialismus. Expansion und Kulturaustausch im Mittelalter, 82–110. Essen: Magnus-Verlag.

Müller, J.-D. 1985. Volksbuch/Prosaroman im 15./16. Jahrhundert: Perspektiven der Forschung. Internationales Archiv für Sozialgeschichte der deutschen Literatur 1, 1–128.

Niepage, G. 1993. Rezeptionsbedingungen volkssprachlicher Erzählstoffe, in K. Braunmüller and W. Diercks (eds), Niederdeutsch und die skandinavischen Sprachen 1, 51–86. Heidelberg: Winter Verlag.

Óskarsson, V. 2003. Middelnedertyske låneord i islandsk diplomsprog frem til år 1500. Copenhagen: Reitzel.

Osterhammel, J. and Jansen, J. C. 2017. Kolonialismus. Geschichte, Formen, Folgen. 7th edition. München: C.H. Beck Verlag.

Ottósson, K. G. 1990. Íslensk málhreinsun. Sögulegt yfirlit. Rit Íslenskrar málnefndar 6. Reykjavík: Letuprent.

Pennycook, A. 1998. English and the Discourses of Colonialism. London: Routledge.

Todorov, T. 1999. The Conquest of America: The Question of the Other. Norman: University of Oklahoma Press.

Wahl, B. 2008. Isländisch: Sprachplanung und Sprachpurismus. Skandinavistische Arbeiten 23. Heidelberg: Winter Verlag.

Wessén, E. 1968. Die nordischen Sprachen. Berlin: Walter de Gruyter & Co.

Westergård-Nielsen, C. 1946. Låneordene i det 16. århundredes trykte islandske litteratur. Bibliotheca Arnamagnæana 6. Copenhagen: Munksgaard.

Wollf, K. 2009. Cultural imperialism, in G. Ritzer (ed.), The Blackwell Encyclopedia of Sociology 2, 906–908. Malden: Blackwell.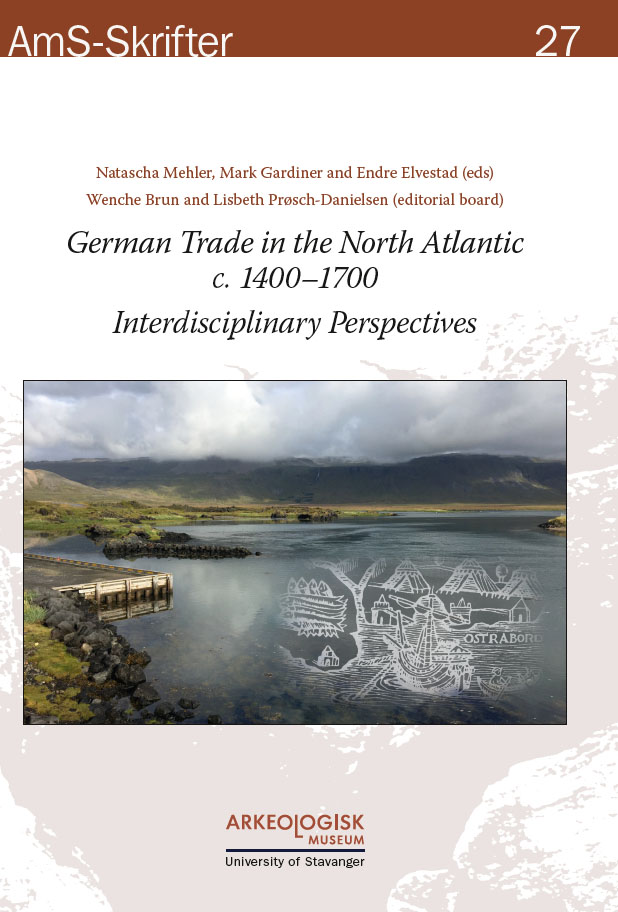 Downloads
How to Cite
Bauer, A. (2020). Cultural colonialism as a result of commercial activities: the linguistic perspective. AmS-Skrifter, (27), 163–174. https://doi.org/10.31265/ams-skrifter.v0i27.271
Section
Part III: The cultural impact of trade