Shetland and her German merchants, c. 1450–1710
Keywords:
Shetland, merchants, Bremen, Hamburg, toll, customs
Abstract
From around 1450 to 1712 merchants from North German towns, especially Bremen and Hamburg, took ships to the Shetland Islands. They broke the rules of the Hanse with a view to buying fish from the Shetlanders, and gave them goods in exchange that they could not otherwise acquire. They played a vital part in Shetland's economy, and their activities were regulated by local officials. From 1610, however, they received more and more attention from customs officers, who imposed heavy tolls and duties on them. Battered by those officials, and from the 1690s by privateers and the collapse of the Shetland economy, they hung on until the first decade of the new century. Disappearing, after 1707, they were replaced by enterprising Shetlanders as purchasers and exporters of the Shetlanders' fish.
References
Gardie House Archive (GH), Shetland. I am grateful to John Scott and Wendy Scott for permission to quote from their collection.

National Library of Scotland (NLS), Edinburgh
Adv. MS Advocates' manuscripts
GD190 Papers of Smyth of Merthven

National Records of Scotland (NRS), Edinburgh
RS44 Particular register of sasines for Orkney and Shetland
RD1 Register of deeds

Orkney Archives (OA), Kirkwall
D38 Earl of Morton papers

Shetland Archives (SA), Lerwick
D10 Cheyne of Vaila papers
D12 Neven of Windhouse papers
SC12 Lerwick Sheriff Court documents

Staatsarchiv Bremen (StAB), Bremen
StAB, 2-R.11.kk Artificial collection of papers concerning Shetland

Court Book– Court Book of Shetland 1602–1604, ed. by G. Donaldson. Edinburgh: Scottish Record Society, 1954.

Hjaltland Miscellany, vol. 5, ed. by E.S.R. Tait. Lerwick: Shetland Times, 1957.

RPC – Register of the Privy Council of Scotland, 3rd series, vol. 15. Edinburgh: H.M. General Register House, 1967.

Aston, T. (ed.) 1965. Crisis in Europe 1560–1660. London: Routledge & Kegan Paul.

Brand, J. 1701. A New Description of Orkney, Zetland, Pightland-Firth and Caithness. Edinburgh: J. Taylor.

Bruce, J. 1908. Description of ye Countrey of Zetland. No provenance: Privately published.

Friedland, K. 1973. Der hansische Shetlandhandel, in K. Friedland (ed.), Stadt und Land in der Geschichte des Ostseeraums, 66–79. Lübeck: Schmidt-Römhild.

Friedland, K. 1983. Hanseatic merchants and their trade with Shetland, in D.J. Withrington (ed.), Shetland and the Outside World, 86–106. Oxford: University of Aberdeen.

Małowist, M. 1960. A certain trade technique in the Baltic countries in the fifteenth to the seventeenth centuries. Poland at the XIth International Congress of Historical Sciences, 103–116. Warsaw: Polish Academy of Sciences.

Małowist, M. 1981. Merchant credit and the putting-out system: rural production during the middle ages. Review 4/4, 667–681.

Parker, G. 2013. Global Crisis. Yale: Yale University Press.

RCAHMS 1946 = Royal Commission on the Ancient Monuments of Scotland. Twelfth Report with an inventory of the Ancient Monuments of Orkney & Shetland, iii, Inventory of Shetland. Edinburgh: His Majesty's Stationery Office.

Rössner, P.R. 2008. Scottish Trade in the Wake of Union (1700–1760). Stuttgart: Franz Steiner.

Smith, B. 1998. Camphor, cabbage leaves and vaccination: the career of Johnie 'Notions' Williamson of Hamnavoe, Eshaness, Shetland. Proceedings of the Royal College of Physicians of Edinburgh, 28/3, 395–406.

Smith, B. 2000. Toons and Tenants: settlement and society in Shetland, 1299–1899. Lerwick: Shetland Times.

Smith, H.D. 1984. Shetland Life and Trade 1550–1914. Edinburg: John Donald Publishers Ltd.

Tait, E.S.R. 1957. Some Notes on the Shetland Hanseatic Trade. Lerwick: The Shetland Times.

Zachariasen, L. 1961. Føroyar sum rættarsamfelag 1535–1655. Tórshavn: Føroya Fróðskaparfelag.

Zickermann, K. 2013. Across the German Sea: Early Modern Scottish Connections with the wider Elbe-Weser Region. Leiden: Brill.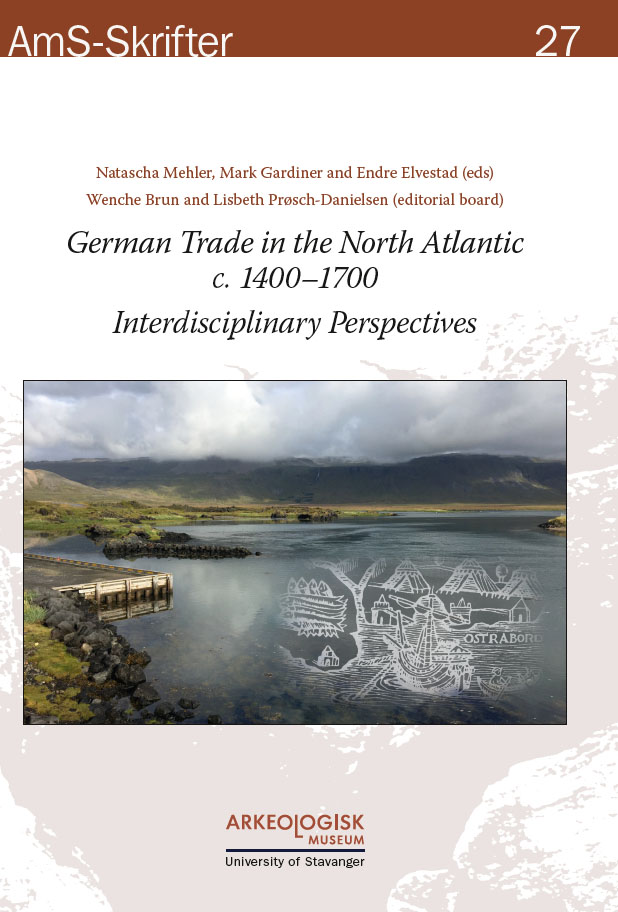 How to Cite
Smith, B. (2020). Shetland and her German merchants, c. 1450–1710. AmS-Skrifter, (27), 147-152. https://doi.org/10.31265/ams-skrifter.v0i27.265
Section
Part III: The cultural impact of trade
Copyright (c) 2019 AmS-Skrifter
This work is licensed under a Creative Commons Attribution 4.0 International License.