Medieval and early modern ceramics in urban and rural Norway as evidence for trade within the Hanseatic world
Keywords:
pottery, stoneware, Norway, fish-trade, Hanse, urban vs rural, consumption habits
Abstract
In Norway, pottery from the fourteenth to seventeenth centuries is always imported and mostly concentrated in the urban centres. The few finds of pottery from this period in a non-urban context can, however, shed light on the spreading of a continental or Hanseatic culture into the periphery of this country. This paper provides a broad overview of archaeological finds of pottery from Bergen and their implications as sources of cultural history. Furthermore, this paper presents various rural and underwater finds of late medieval and early modern pottery in different regions of Norway, along with a discussion of a possible interpretation of the finds as sources for Hanseatic history. 
References
Agricola, G. 1556 [1928]. De re metallica libri XII, Basileae. Zwölf Bücher vom Berg- und Hüttenwesen. Berlin: VDI Verlag.

Berg, B. I. 1999. Die frühen norwegischen Bergwerke. Zuwanderung, Technologie und Kultur aus Deutschland, in J. Simensen (ed.), Deutschland – Norwegen. Die lange Geschichte, 34–49. Otta: Tano Aschehoug.

Blackmore, L. and Vince, A. 1994. Medieval pottery from south-east England found in the Bryggen excavation 1955–68. The Bryggen Papers, Supplementary Series vol. 5, 9–160. Bergen: Scandinavan University Press.

von Blanckenburg, C. 2001. Die Hanse und ihr Bier. Brauwesen und Bierhandel im hansischen Verkehrsgebiet. Köln: Böhlau.

Brun, T. A. 1996. Middelalderkeramikk. Et perifert materiale i det sentrale Nord-Norge. Unpublished Master thesis, University of Tromsø.

Buckholm, M. B. 1998. Lov og nåde. Et billedlig fremstilling av den gamle og den nye pakt på et krus fra Bryggen, in A. Ågotnes (ed.), Tingenes tale. Funn fra Bergen og fra Vestlandet 1000–1600, 96–99. Bergen: Bryggens museum.

Demuth, V. 2001. Weser and Werra Ware in Bergen. Archaeological Perspectives on the Town's Early Modern Period. Bryggen Papers, Supplementary Series vol. 7, 69–137. Bergen: Fagbokforlaget.

Deroeux, D., Dufournier, D. and Herteig, A. E. 1994. French medieval ceramics from the Bryggen excavations in Bergen Norway. The Bryggen Papers, Supplementary Series vol. 5, 161–208. Bergen:Scandinavian University Press.

Dørum, K. 2014. Fra istid til ca. 1100, in Ø. Rian (ed.), Telemarks historie, 21–90. Bergen: Fagbokforlaget.

Ekroll, Ø. 1990. Byens herlighed. Riksantikvarens skrifter Nr. 6. Oslo: Riksantikvaren.

Elvestad, E. and Opedal, A. (eds ) 2001. Maritimarkeologiske forundersøkelser av middelalderhavna på Avaldsnes, Karmøy. AmS-Rapport 18. Stavanger: Arkeologisk museum Stavanger.

Falck, T., Løseth, K., Nymoen, P., Nævdal, D. and Vangstad, H. 2013. Faglig program. Problemstillinger knyttet til arkeologiske havner. Norsk Maritimt Museum – Arkeologisk rapport Nr. 2013:1. Oslo: Norsk Maritimt Museum.

Förster, T. 2002. Alltagsleben auf spätmittelalterlichen Schiffen – Neue archäologische Untersuchungen an Wrackfunden vor der Küste von Mecklenburg- Vorpommern, in K. Krüger and C. O. Cederlund (eds), Maritime Archäologie heute, 232–236. Rostock: Ingo Koch Verlag.

Gaimster, D. 1997. German Stoneware. Archaeology and Cultural History. London: British Museum Press.

Gaimster, D. 2011. Archaeology of a trade network: the Hanseatic League, 1200–1500 AD, in M. Carver and J. Klápště (eds), The Archaeology of Medieval Europe, vol. 2, 340–349. Aarhus: Aarhus University Press.

Grote, K. 1976. Bengerode, ein spätmittelalterlicher Töpfereiort bei Fredelsloh im südlichen Niedersachsen. Nachrichten aus Niedersachsens Urgeschichte 45, 245–304.

Haasis-Berner, A. 1994. Hörner aus Keramik –Wallfahrtsdevotionalien oder Signalhörner? Zeitschrift für Archäologie des Mittelalters 22, 15–38.

Heege, A. 2002. Einbeck im Mittelalter. Oldenburg: Isensee.

Helle, K. 1982. Bergen bys historie. Kongssete og kjøpstad. Fra opphavet til 1536, vol. 1. Bergen: Alma Mater forlag.

Herteig, A. 1989. The buildings at Bryggen. Their topographical and chronological development. The Bryggen Papers, Main Series, vol. 3. Oslo: Norwegian University Press.

Husband, T. 1980. The Wild Man. Medieval myth and symbolism. New York: Metropolitan Museum of Art.

Karoliussen, Y. N. 2008. Europeisk importkeramikk i nordnorsk kontekst. Keramikkens bruk og betydning innenfor det nordnorske samfunnet i perioden 1400–1800 e. Kr. Unpublished Master thesis, University of Tromsø.

Klutig-Altmann, R. 2015. Eine frühneuzeitliche Keramikfanfare aus Wittenberg im Kontext der Funde gewundener Hörner aus Deutschland, in H. Meller (ed.). Fokus Wittenberg: Die Stadt und ihr Lutherhaus. Multidisziplinäre Forschungen über und unter Tage, 93–132. Langenweißbach: Beier & Beran.

König, A. 2007. Keramikfunde aus höxterschen Haushalten der ersten Hälfte des 15. Jahrhunderts, in F. Lichtwark (ed.), Keramik auf Sonderwegen. Denkmalpflege und Forschung in Westfalen 44, 121–130. Mainz: Philipp von Zabern.

Leiber, C. (ed.) 2012. Aus dem Pottland in die Welt. Eine historische Töpferregion zwischen Weser und Leine. Holzminden: Jörg Mitzkat.

Lönne, P. 2004. Die mittelalterliche Töpfereiwüstung Bengerode bei Fredelsloh, Ldkr. Northeim, in F. Both, H. Haßmann and M. Fansa (eds), Archäologie Land Niedersachsen. 25 Jahre Denkmalschutzgesetz. 400000 Jahre Geschichte, 264–265. Stuttgart: Theiss.

Lüdtke, H. 1989. The Bryggen Pottery I: Introduction and Pingsdorf Ware. The Bryggen Papers, Supplementary Series vol. 4. Bergen: Norwegian University Press.

Mehler, N. 2009. The perception and interpretation of hanseatic material culture in the North Atlantic: problems and suggestions. Journal of the North Atlantic, Special Volume 1, 89–108.

Müller, U. 2014. 'Archäologie' + 'Kultur' = 'Hansekultur'? Überlegungen zu einem Begriff, in A. Falk, U. Müller and M. Schneider (eds), Lübeck und der Hanseraum. Beiträge zu Archäologie und kulturgeschichte. Festschrift für Manfred Gläser, 439–452. Lübeck: Schmidt-Römhild.

Möller, G. 2008. '...so sende ic to 1 tunne, dar es inne 13 dosin potte...' - Anmerkungen zum Keramikhandel im Ostseeraum des 13. bis 17. Jahrhunderts aufgrund der schriftlichen Quellen, in F. Biermann, U. Müller and T. Terberger (eds), 'Die Dinge beobachten...', 537–554. Rahden: Marie Leidorf.

Nedkvitne, A. 1988. 'Mens bønderne seilte og jægterne for'. Nordnorsk og vestnorsk kystøkonomi 1500–1730. Oslo: Universitetsforlaget.

Nedkvitne, A. 2014. The German Hansa and Bergen, 1100–1600. Quellen und Darstellungen zur hansischen Geschichte 60. Köln: Böhlau.

Nymoen, P. 1994. Handelsplasser på kysten. Maritimarkeologisk perspektiv på vareutveksling på senmiddelalderen. Unpublished Master thesis, University of Tromsø.

Rech, M. 2004. Gefundene Vergangenheit – Archäologie des Mittelalters in Bremen. Bremer Archäologische Blätter, Beiheft 3. Bremen: Landesarchäologie.

Reed, I. 1994. Late Medieval Ceramics in Norway. Medieval Ceramics 18, 59–65.

Reed, I. 2009. Trønderkeramikk – Adskillige Sorter Krustøi. Trondheim: Tapir akademisk forlag.

Roper, L. 1994. Oedipus and the Devil. Witchcraft, sexuality and religion in early modern Germany. London: Routledge.

Russow, E. 2004. Haruldane habemik Toompealt, in A. Haak, E. Russow and A. Tvauri (eds), Linnusest jalinnast. Uurimusi Vilma Trummali auks, 317–331. Tallinn: Teaduste Akadeemia Kirjastus.

Schäfer, H. 1996. Zur Keramik des 13. bis 15. Jahrhunderts in Mecklenburg-Vorpommern. Bodendenkmalpflege in Mecklenburg-Vorpommern, 297–335.

Schreiner, J. 1963. Bremerne i Bergen. Historisk Tidsskrift 42, 291–315.

Stephan, H.-G. 1981. Coppengrave. Studien zur Töpferei des 13. bis 19. Jahrhunderts in Nordwestdeutschland. Hildesheim: August Lax.

Stephan, H.-G. 2012. Das Pottland: Mittelalterliche und neuzeitliche Töpferei von landesgeschichtlicher Bedeutung und Keramik von europäischem Rang in Niedersachsen, in C. Leiber (ed.), Aus dem Pottland in die Welt. Eine historische Töpferregion zwischen Weser und Leine, 9–72. Holzminden: Jörg Mitzkat.

Thuesen, G. 1979. Den første dokumenterte bergverksdrift i Norge. Volund, 7–60.

Tøssebro, C. 2012. Wine and power. A spatial and stratigraphical study of the pottery and glass assemblages from the wine cellar in Bergen, Norway. Historische Archäologie 2012. Published online http:// www.histarch.uni-kiel.de/HistArch_2012_high.pdf [last access December 2017].

Øye. I. (ed.) 1998. Medieval fires in Bergen – revisited. The Bryggen Papers, Supplementary Series vol. 6. Bergen: Fagbokforlaget.

von Witzendorff, H. J. 1955. Bremens Handel im 16. und 17. Jahrhundert. Bremisches Jahrbuch 44, 128–174.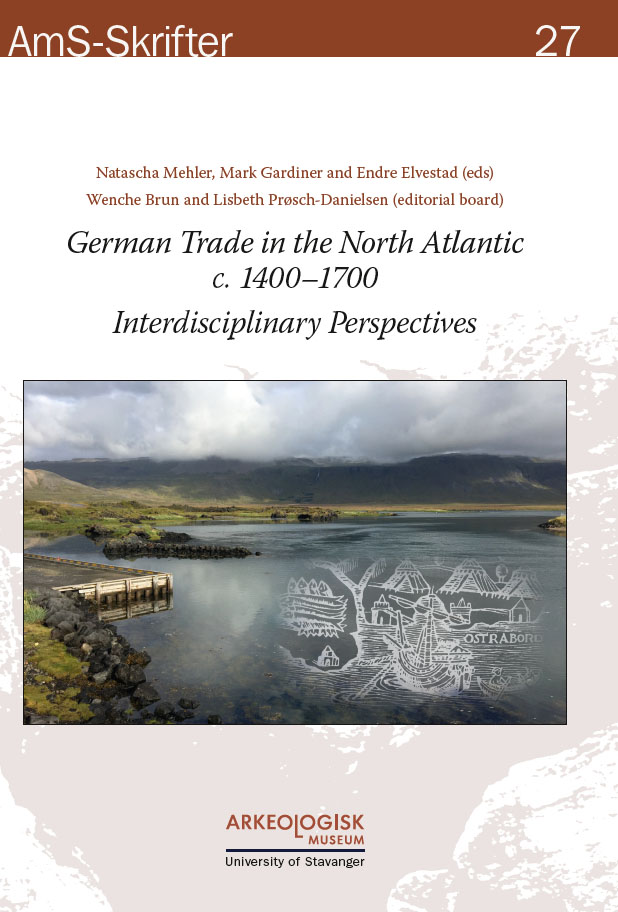 Downloads
How to Cite
Demuth, V. (2020). Medieval and early modern ceramics in urban and rural Norway as evidence for trade within the Hanseatic world. AmS-Skrifter, (27), 121–132. https://doi.org/10.31265/ams-skrifter.v0i27.263
Section
Part II: The commodities of trade