Bremen's trade with the North Atlantic, c. 1400–1700
Keywords:
Bremen, trade, Iceland, Shetland, Norway, fish-trade
Abstract
There is little evidence of Bremen merchants in Norway before the royal charters issued from 1279 onwards, even though Bremen had been the seat of the missionary archbishop for the Nordic countries since the ninth century. Trade in Bergen in the fourteenth and fifteenth centuries was dominated by the Hanseatic cities of the Baltic Sea coast led by merchants from Lübeck. Despite opposition from Hanseatic merchants sailing to Bergen, merchants from Hamburg and Bremen developed new trading posts to barter cod on Iceland and Shetland in the fifteenth century. Traders from Hamburg and Bremen on Iceland competed for licences issued by the Danish king. The 1558 debt register of a merchant from Bremen in Kumbaravogur provides considerable insight into this trade. The Danish king restricted sailings to Iceland to Danish merchants from 1601. On Shetland the Scottish foud allotted landing places to foreign skippers and traders. Merchants from Bremen became respected members of the island communities and in the seventeenth century they changed to trading in herring. Several tariff rate rises led to the end of Bremen sailings to Shetland by the beginning of the eighteenth century. Bremen merchants in Norway succeeded in breaking the Lübeck dominance in Bergen in the sixteenth century. By 1600, other Norwegian harbours in the North Atlantic, notably Stavanger, were also destinations for ships from Bremen.
References
Archiv der Handelskammer (AHK), Bremen
IV-A IV Rechnungsbücher des Collegium Seniorum

Staatsarchiv Bremen (StAB)
1 Urkunden
2-R.2. Ratsarchiv, Verschiedene Staatseinkünfte und Steuern
2-R.11. Ratsarchiv, Schifffahrt zur See 2-W.9. Ratsarchiv, Verhältnisse Bremens zu auswärtigen Ländern

Grönländer und Färinger Geschichten, translated by F. Niedner. Thule, vol. 13. Jena: Diederichs, 1929.

Baasch, E. 1889. Die Islandfahrt der Deutschen, namentlich der Hamburger vom 15. bis 17. Jahrhundert. Hamburg:Herold'sche Buchhandlung.

Bei der Wieden, H. 1994. Lübeckische Islandfahrt vom 15. bis 17. Jahrhundert. Zeitschrift des Vereins für Lübeckische Geschichte und Altertumskunde 74, 9–29.

Brill, E.V.K. 1983. More Bremen connections with Shetland. Shetland Life no. 30, April 1983, 34–37, 43.

Bruns, F. 1900. Die Lübecker Bergenfahrer und ihre Chronistik. Berlin: Pass & Garleb.

Bruce, R. S. 1937. Foreign merchants in Shetland. Shetland News, 11 March 1937.

Burkhardt, M. 2009. Der hansische Bergenhandel im Spätmittelalter. Handel – Kaufleute – Netzwerke. Köln: Böhlau.

Campbell, J., Elvestad, E., Gardiner, M. and Mehler, N. 2010. A report on preliminary work on Papa Stour, Shetland. OTIS Field Report. https://histarch.univie.ac.at/fileadmin/user_upload/a_histarch/publikationen/mehler/Papa_Stour_report_OITIS.pdf

Deetjen, P. and Deetjen, A. 1908. Die Bremer Familie Deetjen. Bergen: John Grieg.

Entholt, H. and Beutin, L. 1937. Bremen und Nordeuropa. Weimar: Böhlau Nachf.

Entholt, H. and Beutin, L. 1939. Bremen und die Niederlande. Weimar: Böhlau Nachf.

Focke, J. 1916. Das Seefahrtenbuch des Brüning Rulves. Bremisches Jahrbuch 26, 91–144.

Föge, H. 1958. Bremer Bergenfahrt und Bergenfahrer vom 16.–18. Jh. Dissertation, Kiel university, Typoscript.

Friedland, K. 1973. Der hansische Shetlandhandel, in K. Friedland (ed.), Stadt und Land in der Geschichte des Ostseeraums, 66–79. Lübeck: Schmidt-Römhild.

Gardiner, M. and Mehler, N. 2007. English and Hanseatic trading and fishing sites in medieval Iceland. Germania 85, 385–427.

Hägermann, D. and Weidinger, U. 2012. Bremische Kirchengeschichte im Mittelalter. Bremen: Hauschild

Hänselmann, L. 1890. Braunschweiger und Bremer auf Islandfahrt. Hansische Geschichtsblätter 1888, 168–172.

Helle, K. 1980. Neueste norwegische Forschungen über deutsche Kaufleute in Norwegen und ihre Rolle im norwegischen Außenhandel im 12. bis 14. Jh., Hansische Geschichtsblätter 98, 23–38.

Hermannsson, H. 1936. The Problem of Wineland. Ithaca, New York: Cornell University Press.

Hill, Th. 2004. Die Stadt und ihr Markt. Bremens Umlands- und Außenbeziehungen im Mittelalter (12.–15. Jh.). Stuttgart: Steiner.

Hofmeister, A. E. 1993. Das Bremer Akzise- und Tonnengeldregister von 1532. Bremisches Jahrbuch 72, 51–97.

Hofmeister, A. E. 2000a. Hansische Kaufleute im 15. und 16. Jh., in: Kirche, Kaufmann, Kabeljau – 1000 Jahre Bremer Islandfahrt, 33–46. Bremen: Staatsarchiv.

Hofmeister, A. E. 2000b. Das Schuldbuch eines Bremer Islandkaufmanns, in Kirche, Kaufmann, Kabeljau – 1000 Jahre Bremer Islandfahrt, 47–54. Bremen: Staatsarchiv.

Hofmeister, A. E. 2001. Das Schuldbuch eines Bremer Islandfahrers aus dem Jahre 1558. Bremisches Jahrbuch 80, 20–50.

Hofmeister, A. E. 2014. Das Bremer Kaufmannsakzise-Rechnungsbuch von 1617, in M. Hundt and J.Lokers (eds), Hanse und Stadt, 337–354. Lübeck: Schmidt-Römhild.

Jahnke, C. 2000. Das Silber des Meeres. Köln: Böhlau.

Koch, F. C. 1995. Untersuchungen über den Aufenthalt von Isländern in Hamburg für den Zeitraum 1520–1662. Hamburg: Verein für Hamburgische Geschichte.

Kohl, D. 1905. Der oldenburgisch-isländische Handel im 16. Jh., Jahrbuch für die Geschichte des Herzogtums Oldenburg 15, 34–53.

Kohl, J. G. 1869. Spuren einer alten Schiffahrts- und Handels-Verbindung Bremens mit dem Norden Europas und mit Amerika. Bremisches Jahrbuch 4, 436–475.

MacDonald, G. 1934. More Shetland tombstones, Proceedings of the Society of Antiquaries of Scotland 69, 27–48.

Mehler, N. 2009. The perception and interpretation of Hanseatic material culture in the North Atlantic:problems and suggestions. Journal of the North Atlantic, special vol. 1, 89–109.

Mehler, N. and Gardiner, M. 2013. On the Verge of Colonialism. English and Hanseatic Trade in the North Atlantic Islands, in P. E. Pope and S. Lewis-Simpson (eds), Exploring Atlantic Traditions, 1–14. Woodbridge: The Boydell Press.

Nedkvitne, A. 2014. The German Hansa and Bergen 1100–1600. Köln: Böhlau.

Prange, R. 1963. Die bremische Kaufmannschaft in sozialgeschichtlicher Betrachtung. Bremen: Schünemann.

Roesler, Ph. R. 2008. Scottish trade with German ports 1700–1790. Stuttgart: Steiner.

Röhlk, O. 1935. Hansisch-Norwegische Handelspolitik im 16. Jh. Neumünster: Wachholtz.

Schmidt, H. 1989. Skandinavien im Selbstverständnis der Bremer Kirche vom 9. bis zum 11. Jh., in D. Hägermann (ed.), Bremen – 1200 Jahre Mission, 33–59. Bremen: Döll.

Schmidtmayer, A. 1937. Zur Geschichte der bremischen Akzise. Bremisches Jahrbuch 37, 64–79.

Schreiner, J. 1963. Bremerne i Bergen. Historisk Tidsskrift 42, 291–316.

Tidemann, C. 1970. Die Schiffahrt des Herzogtums Bremen zur Schwedenzeit (1645–1712). Stade: Stader Geschichts- und Heimatverein.

von Witzendorff, H. J. 1955. Bremens Handel im 16. und 17. Jh. Bremisches Jahrbuch 44, 128–174.

Wubs-Mrozewicz, J. 2008. Traders, Ties and Tensions. Hilversum: Verloren.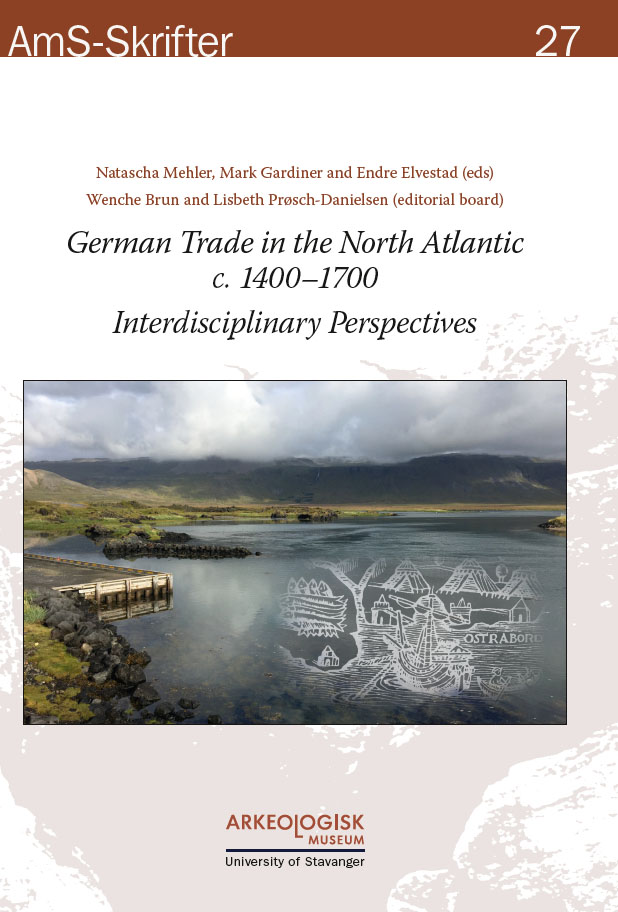 Downloads
How to Cite
Hofmeister, A. E. (2020). Bremen's trade with the North Atlantic, c. 1400–1700. AmS-Skrifter, (27), 53–61. https://doi.org/10.31265/ams-skrifter.v0i27.255
Section
Part I: The context and character of trade