Bergen's role in the medieval North Atlantic trade
Keywords:
Bergen, Kontor, Hanseatic trade, stockfish, North Atlantic
Abstract
North Atlantic trade in the high Middle Ages was centred on Bergen. The Bergen connection was important to the North Atlantic islanders and townsmen who specialized in trading with them, but up to the early fourteenth century did not count for much in Bergen's total trade. This changed when larger assignments of Icelandic stockfish were sent to Bergen from the 1340s and reexported via the town's Hanseatic settlement, the later Kontor. During the fifteenth century fish exports from the North Atlantic to Bergen declined sharply as the English increasingly fetched their fish directly from Iceland, and Hanseatic merchants from Hamburg and Lübeck followed in their wake to Iceland and the more southerly islands. Yet, in the author's opinion, Hanseatic trade with the North Atlantic from Bergen was not reduced to the degree that has often been assumed. And it should not be overlooked that Bergen had economic relations with the North Atlantic islands outside the Hanse.
References
NRJ − Norske Regnskaber og Jordebøger fra det 16de Aarhundrede. Christiania: Det norske historiske Kildeskriftfond, 1887–.

Scriptores minores historiae Danicae medii aevi, vol. 2, ed. by M. Cl. Gertz. København: Selskabet til udgivelse af kilder til dansk historie, 1920.

Sverris saga – Sverris saga etter Cod. AM 327 4°, ed. by G. Indrebø. Kristiania: Den Norske Historiske Kildeskriftkommission, 1920.

Barrett, J. H., Locker, A. M. and Callum, C. M. 2004. The origins of intensive marine fishing in medieval Europe: the English evidence. Proceedings of the Royal Society of London B 271, 2417−2421.

Blom, G. A. 1960. Grønlandshandel. Kulturhistorisk leksikon for nordisk middelalder, vol. 5, 519–523. Oslo: Gyldendal Norsk Forlag.

Bruns, F. 1900. Die Lübecker Bergenfahrer und ihre Chronistik, Hansische Geschichtsquellen, vol. 2. Berlin: Pass & Garleb.

Friedland, K. 1973. Der hansische Shetlandshandel, in K. Friedland (ed.), Stadt und Land in der Geschichte des Ostseeraums, 66−79. Lübeck: Schmidt-Römhild.

Helle, K. 1982a. Bergen bys historie, vol. 1. Kongssete og kjøpstad. Fra opphavet til 1536. Bergen: Universitetsforlaget.

Helle, K. 1982b. The Germans in Bergen in the Middle Ages, in Bryggen, The Hanseatic Settlement in Bergen, 12−26. Det Hanseatiske Museums Skrifter, no. 24, Bergen.

Helle, K. 2005a. The emergence of the town of Bergen in the light of the latest research results, in A. Grassmann (ed.), Das Hansische Kontor zu Bergen und die Lübecker Bergen's role in the medieval North Atlantic trade Bergenfahrer, 12–27. Lübeck: Archiv der Hansestadt Lübeck.

Helle, K. 2005b. The position of the Faeroes and other 'tributary lands' in the medieval Norwegian dominion, in A. Mortensen and S. V. Arge (eds), Viking and Norse in the North Atlantic, 11–21. Annales Societatis Scientiarum Færoensis Supplementum XLIV. Tórshavn: Føroya Fróðskaparfelag.

Helle, K. 2013. The political centre of the high medieval Norwegian realm, in Ø. H. Brekke and G. A. Ersland (eds), Håkonshallen 750 Years, Royal Residence and National Monument, 110–121. Oslo: Dreiers Forlag.

Helle, K., Eliassen, F.-E., Myhre, J. E. and Stugu, O. S. 2006. Norsk byhistorie. Urbanisering gjennom 1300 år. Oslo: Pax forlag.

Jóhannesson, J. 1958. Íslendinga saga, vol. 2. Reykjavík: Almenna bókafélagið.

Jóhannesson, J. 1969. Islands historie i mellomalderen, Fristatstida. Oslo: Universitetsforlaget.

Nedkvitne, A. 2014. The German Hansa and Bergen 1100–1600. Quellen und Darstellungen zur hansischen Geschichte, vol. 60. Köln: Böhlau.

Thompson, W. P. L. 1987. History of Orkney. Edinburgh: The Mercat Press.

Þorláksson, H. 1977. Island. Urbaniseringstendenser på Island i middelalderen, in G. A. Blom (ed.), Urbaniseringsprosessen i Norden, vol. 1, 161–188. Oslo: Universitetsforlaget.

Þorláksson, H. 1991. Vaðmál og verðlag. Vaðmál í utanlandsviðskiptum og búskap Íslendinga á 13. og 14. öld. Reykjavík: Heimspekideild Háskóla Íslands.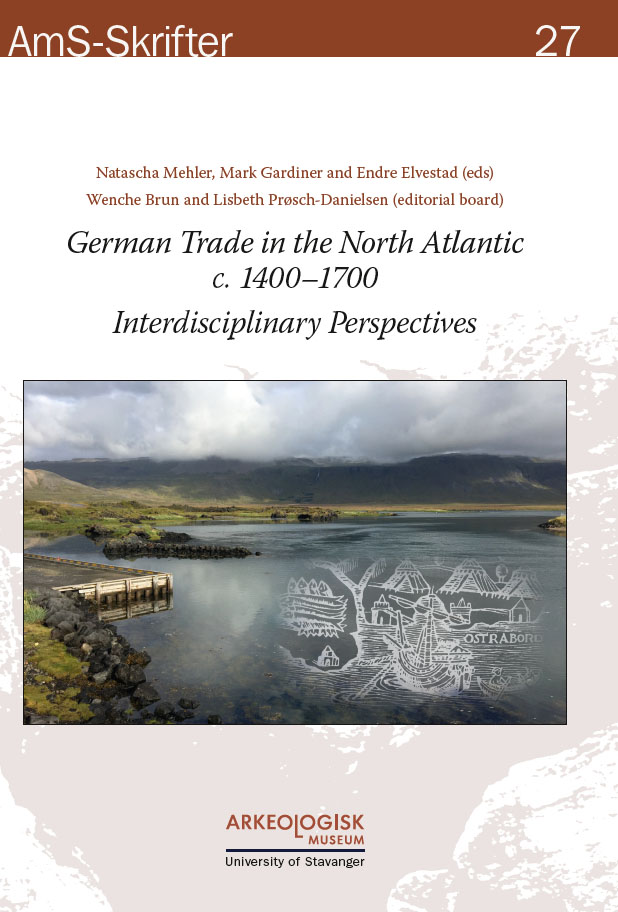 Downloads
How to Cite
Helle, K. (2020). Bergen's role in the medieval North Atlantic trade. AmS-Skrifter, (27), 43–51. https://doi.org/10.31265/ams-skrifter.v0i27.254
Section
Part I: The context and character of trade