The Experience of Incarcerated Mothers Living in a Correctional Institution with their Children in Ethiopia
Keywords:
correctional institution, incarceration, motherhood, experience, Ethiopia, qualitative research
Abstract
The needs of female inmates are different from those of their male counterparts. Little is understood of the nature of these differences, particularly for mothers who in countries such as Ethiopia may be accompanied by their children when in correctional facilities. This article is aimed at exploring these inmates' experiences of motherhood, the challenges they and their children face and their experiences of the services and support programmes available. The central research question was: 'What is the experience of incarcerated mothers living in prison with their children in Ethiopia?' A general qualitative approach was taken in the study, using in-depth interviews (n=10) with incarcerated mothers who had a child living with them in a typical large, high-security Ethiopian correctional institution. Mothers questioned the perceived inclusiveness of the services available to them, with access often being denied owing to their childcare responsibilities. Participation in small business enterprises within the institution was an exception to this. They discussed the challenges facing the mother and child as a family unit, the relationship between the mother, the criminal justice system and society and finally their perceptions of the incarcerated mother as a survivor, resilient in the face of the challenges being experienced. These themes showed that incarcerated mothers perceive themselves as victims of societal discrimination, abuse and structural injustice before and after incarceration, and that correctional institution facilities left them unable to provide adequately for the physical, emotional and educational needs of their children. The role of correctional administrations, policymakers, correctional institution social workers and researchers alike in addressing the inequalities facing mothers in Ethiopian correctional institutions is discussed.
References
Andrews, D. A., Bonta, J., & Wormith, J. S. (2011). The Risk-Need-Responsivity (RNR) Model: Does adding the good lives model contribute to effective crime prevention? Criminal Justice and Behavior, 38(7), 735–755. https://doi.org/10.1177/0093854811406356

Archer, M. (2003). Structure, Agency and the Internal Conversation. New York: Cambridge University Press. https://doi.org/10.1017/CBO9781139087315

Artz, L., & Rotmann, B. (2015). Taking 'A Count' of Women in Prison, Agenda, 29(4), 3-13. https://doi.org/10.1080/10130950.2015.1129091

Baldwin, L. (2018). Motherhood disrupted: Reflections of post-prison mothers. Emotion, Space and Society, 26, 49–56. https://doi.org/10.1016/j.emospa.2017.02.002

Belaynesh, T., Marloes, V. E., Jac Van der K., & Alice, S. (2017). The grace of motherhood: Disabled women contending with societal denial of intimacy, pregnancy, and motherhood in Ethiopia, Disability & Society, 32(10), 1510-1533. https://doi.org/10.1080/09687599.2017.1361385

Bryman, A. (2016). Social Research Methods. (5th ed). Oxford: Oxford University Press.

Corrigan, P. W., & Watson, A. C. (2002). Understanding the impact of stigma on people with mental illness. World psychiatry: Official journal of the World Psychiatric Association (WPA), 1(1), 16–20.

Coyle, A. (2002). A Human Rights Approach to Prison Management: Handbook for prison staff: London: International Centre for Prison Studies.

Dissel, A. (2007). Rehabilitation and Reintegration in African Prisons. Human Rights in African Prisons, HSRC Press: Cape Town, 2007, 155-176.

Engeström, Y., & Sannino, A. (2011) Discursive manifestations of contradictions in organizational change efforts: A methodological framework, Journal of Organizational Change Management, 24(3), 368-387, https://doi.org/10.1108/09534811111132758.

Graneheim, U., & Lundman, B. (2004). Qualitative content analysis in nursing research: Concepts, procedures, and measures to achieve trustworthiness. Nurse Education Today, 24(2), 105–112. https://doi.org/10.1016/j.nedt.2003.10.001

Gray, M. (2011). Back to Basics: A Critique of the Strengths Perspective in Social Work. Families in Society: The Journal of Contemporary Social Services, 92(1), 5–11. https://doi.org/10.1606/1044-3894.4054

Healy, K. (2014). Social Work Theories in Context. (2nd ed.). UK: Palgrave Macmillan. https://doi.org/10.1007/978-1-137-02425-1

Holloway, I. (2005). Qualitative Research in Health Care, Maidenhead, UK: Open University Press.

Kelbisow, S. A. (2006). The Situation of Children of Imprisoned Mothers: The Case of Addis Ababa Prison, Addis Ababa: Addis Ababa University.

Kirkpatrick, P., & van Teijlingen, E. (2009). Lost in translation: Reflecting on a model to reduce translation and interpretation bias. The Open Nursing Journal, 3, 25–32. https://doi.org/10.2174/1874434600903010025

Linonge-Fontebo, H. N., & Rabe. M. (2015). Mothers in Cameroonian Prisons: Pregnancy, Childbearing and Caring for Young Children. African Studies, 74(3), 290–309. https://doi.org/10.1080/00020184.2015.1068000.

MacDonald, M. (2013). Women Prisoners, Mental Health, Violence, and Abuse. International Journal of Law and Psychiatry, 36(3–4), 293–303. https://doi.org/10.1016/j.ijlp.2013.04.014

Malambo, O. (2016). The welfare of children living with incarcerated mothers in selected prisons of Zambia, Lusaka: University of Zambia.

Messele, B. E. (2017). A Critical Review on the Ethiopian Criminal Justice Policy; With Special Emphasis on the Prison Policy: Bahir Dar University, School of Law (Accessed on January 22, 2018). Retrieved from file:///Users/eddybegna/Downloads/Prison Policy Review.pdf.

Mignon, S. I., & Ransford, P. (2012). Mothers in Prison: Maintaining Connections with Children. Social Work in Public Health, 27(1–2), 69–88. https://doi.org/10.1080/19371918.2012.630965

Müller-Fabian, A. (2015). Main Characteristics of Inmate Mothers, Emphasized on their Psycho-socio-educational status. Procedia - Social and Behavioral Sciences, 209(July), 344–350. https://doi.org/10.1016/j.sbspro.2015.11.247

Murray, J., & Murray, L. (2010). Parental Incarceration, Attachment and Child Psychopathology: Attachment & Human Development, 12(4), 289–309. https://doi.org/10.1080/14751790903416889

Pierre, E. (2016). Mental Health Rights of Incarcerated Mothers who are Accompanied by their Children in a Kenyan Prison, Gothenburg: University of Gothenburg.

Skeem, J., & Peterson, J. (2011). "Major Risk Factors for Recidivism Among Offenders with Mental Illness. Report prepared for the Council of State Governments (CSG)." (Accessed November 16, 2016). Retrieved from http://riskreduction.soceco.uci.edu/index.php/publications-all/published- risk-assessments/.

Stanley, E., & Byrne, S. (2000). Mothers in Prison: Coping with Separation from Children. Australian Institute of Criminology

Teferra, E. (2017). Challenges of Incarcerated Children, Addis Abba: Addis Ababa University.

The Constitution of the Federal Democratic Republic of Ethiopia. (1995). Proclamation No.1/1995: Addis Ababa. (Accessed on April 25, 2018). Retrieved from http://www.wipo.int/edocs/lexdocs/laws/en/et/et007en.pdf.

The Council of Ministers Regulations on the Treatment of Federal Prisoners (2007). The Council of Ministers: Addis Ababa, Ethiopia (Accessed on March 11, 2018). Retrieved from https://chilot.files.wordpress.com/2011/01/reg-no-138-treatment-of-federal-prisoners.pdf.

The Federal Democratic Republic of Ethiopia Revised Family Code (2000). Proclamation No.213/2000: Addis Ababa (Accessed on April 25, 2018). Retrieved from http://www.refworld.org/pdfid/4c0ccc052.pdf.

Thomas, R. D. (2003). A general inductive approach for qualitative data analysis. School of Population Health, University of Auckland: New Zealand (Accessed on April 25, 2019). Retrieved from http://www.frankumstein.com/PDF/Psychology/Inductive%20Content%20Analysis.pdf.

Townhead, M. B. (2008). Women in prison: A commentary on the UN Standard Minimum Rules for the Treatment of Prisoners. Human Rights & Refugees Publications, 1(2), 67–78.

United Nations (2011). United Nations Rules for the Treatment of Women Prisoners and Non-custodial Measures for Women Offenders (the Bangkok Rules), Crime prevention and criminal justice: Bangkok, Thailand (Accessed on October 8, 2018). Retrieved from https://www.unodc.org/documents/justice-and-prison-reform/Bangkok_Rules_ENG_22032015.pdf.

United Nations (2014). Handbook on women and Imprisonment (2nd ed.). New York: United Nations Publication.

US Department of State (2015). Human Rights Report Ethiopia (Accessed on February 19, 2018). Retrieved from https://www.state.gov/documents/organization/252893.pdf.

Ward, T., Yates, P.M., & Willis, G. (2012). The Good Lives Model and the Risk Need Responsivity Model: A Critical Response to Andrews, Bonta, and Wormith (2011). Criminal Justice and Behavior, 39, 94 -110. https://doi.org/10.1177/0093854811426085

World Prison Brief Report (2017). Institute for criminal policy research, 4th edition. University of London (Accessed on April 25, 2019). Retrieved from http://www.prisonstudies.org/news/world-female-imprisonment-list-fourth-edition.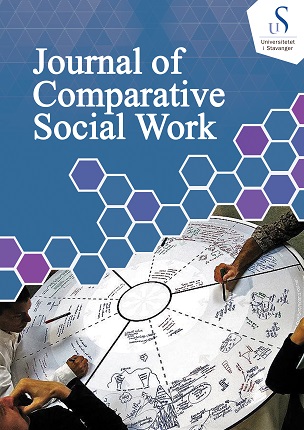 Downloads
How to Cite
Gobena, E. B., & Hean, S. C. P. D. (2019). The Experience of Incarcerated Mothers Living in a Correctional Institution with their Children in Ethiopia. Journal of Comparative Social Work, 14(2), 30–54. https://doi.org/10.31265/jcsw.v14i2.247